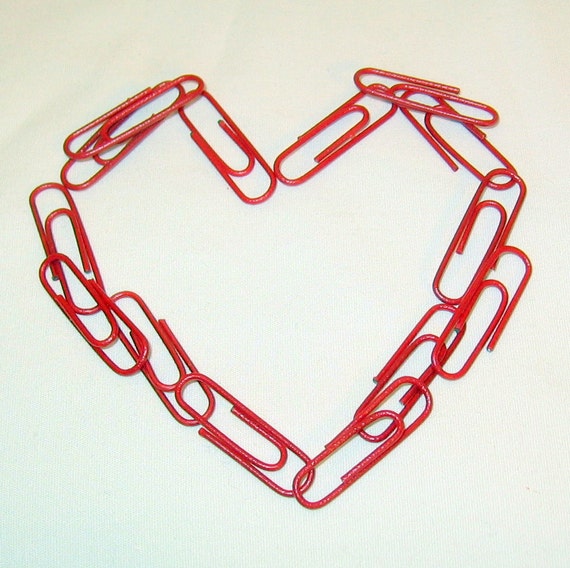 So today, my star of the day is a little bit different. Read the listing or go to this thread on The Vintge Etsy Society Team Discussions for more details.
Listing Details
My fellow Starving Artists: ...
The original cry for help- Fall 2012. Before and after SuperStorm Sandy, were these paperclip listings. The love and generosity of strangers buying these paper clips helped save my home. SERIOUSLY- helped saved my family home!
One of the amazing Vintage Teams here I am proud to be a member of took it a step further-
The Vesties- Vintage Etsy Society Street Team founded THE RED PAPER CLIP FUND.
Compassion and help for who ever needs it- Medical bills, tax bills, whatever the need. Our Amazing Co-Leaders set up . Legit, discrete help.
The team has suggested ( and received!) donations, all stemming from a listing similar to this that I wrote in an act of desperation. We now PIF it to the next to struggle here to lighten the load-
Buy a red paper clip; help a fellow etsy shop owner- together we can weave a safety net.
Inspired by equal parts shear desperation, the Kyle MacDonald ONE RED PAPERCLIP trade, and the most supportive teacher I know, JD, who has finally taught me what I'd missed for 49 years: " If something's not working, try it a different way."
We offer a paper clip for your art needs.
These paperclips- useful, tangible things that they are, will be my artistic plea and statement.
Help someone else hold it together (get it?).
$4 will buy you a traditional Bright Red painted paper clip.
Approximately 1" long X ¼" wide.
***Also available in Lime Zombie Green, Pepto Pink, Orange Orange, Light Teal Blue, Outta The Closet Purple, and Good Old School Uncoated Silver tone~
You will also receive a heart-felt "Thank you".
For your scrapbook or artwork, or blog
Be a hero for the next person. Great Karma, great feedback, great tomorrow.
Colors listed above available, too, or none at all if you are of generous heart but clutter-free home.
($5 pays all supply/ etsy/ paypal / postal fees and still puts 3 bucks in the Vestiesteam Red Paper Clip Compassion Fund)
*$3 postage for "Everywhere Else" for additional postage and post office trip*
Thank you so much. We sincerely appreciate the help.