I got the pleasure of
Anni Betts
agreeing to do an interview for me this week. I've admired her prints for such a long time now that I just thought she would say no, but she didn't and I am so pleased you guys can now get to meet the woman behind these amazing prints and not
only
that but she is also giving away one of her
You're So Foxy
Prints to one lucky giveaway winner. Enjoy reading about Anni and when you have finished her giveaway is at the bottom. Good luck everyone.
Tell us a bit about you and your shop
I'm a professional illustrator living in Chicago, Illinois, in the U.S. Most of my job is creating pictures that are commissioned for books, magazines, ads and the like, but I also enjoy creating pictures just for selling on
Etsy
. It's fun to think up a picture someone might want to hang on their wall, and then see what sort of response it gets from the Etsy community. I especially enjoy drawing animals and plants, and love using vibrant colors and lots of line and pattern to make each picture unique.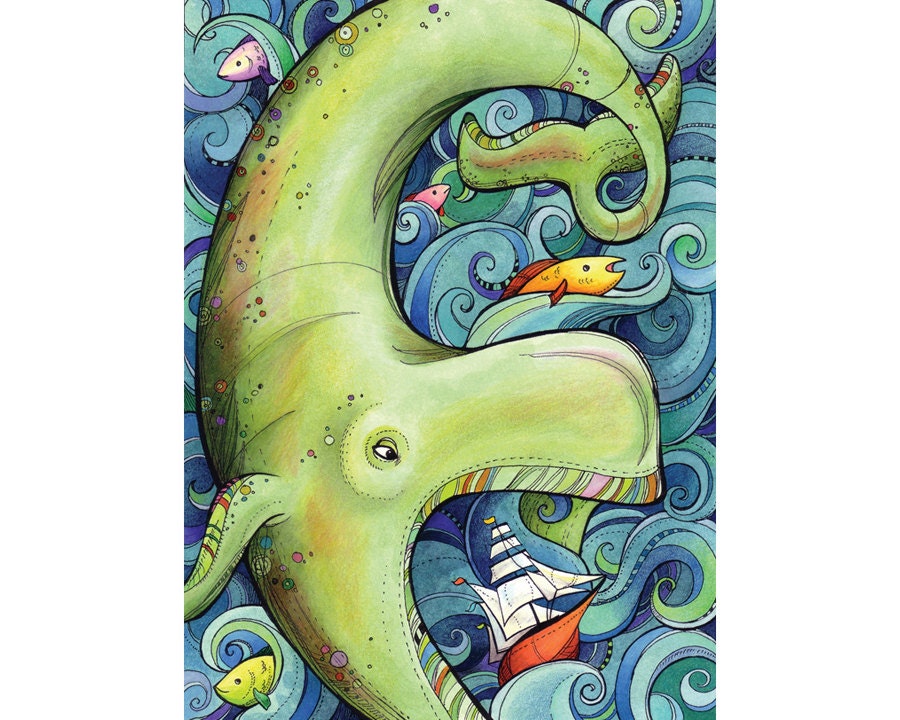 Where else can we find you?
My main website is
www.annibetts.com
, and I have a blog that links off of that site where I share updates on what I'm drawing.
Where do you get your inspiration from?
Since part of the fun of Etsy is tapping into trends, a lot of my inspiration comes from seeing what colours and motifs are constantly popping up out there in the city around me, from shops, to people's clothes, to the work of other artists. I also love nature so in the summer especially I'm always inspired by flowers, birds and animals outside.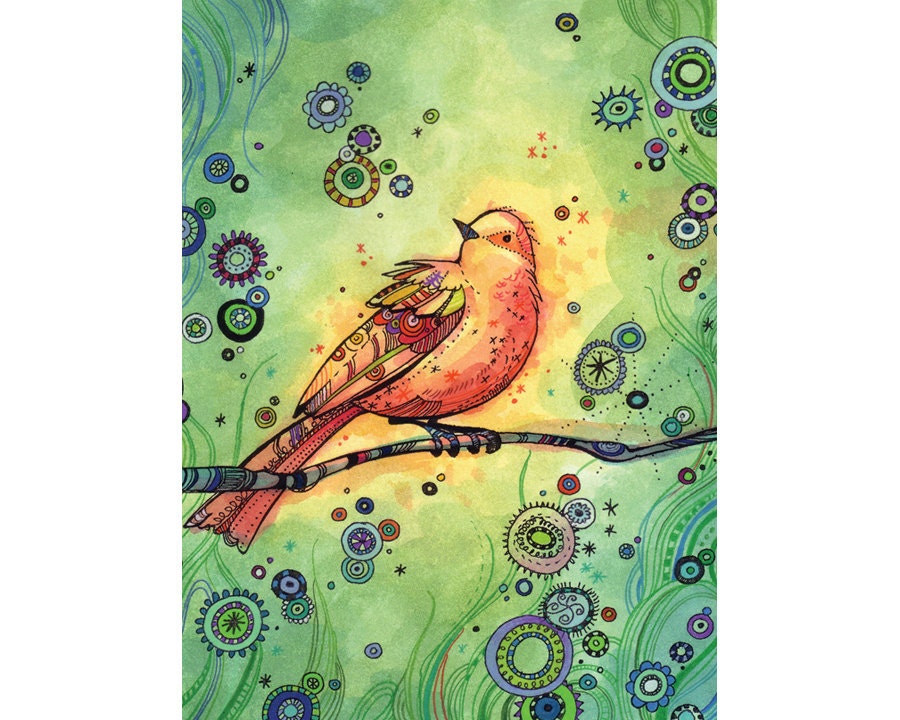 How long does it take from thinking of a new picture to it appearing in your shop? Could you tell us a little bit about the whole process?
It sort of depends on the picture — sometimes I think of an idea, and it just flows super easily and it's only a few days from thinking of it to having it up in my shop! Other times I'll have an idea for something, but it takes me a while to figure out how to use it. I used to work in "traditional" media — pens, paper, watercolour — but I recently switched over to doing more digitally. Now my process starts with sketches, then I do an ink drawing, and then I do all of the colour work digitally. It's not only faster and more flexible, but I like to travel and now it's so much easier to take my work with me.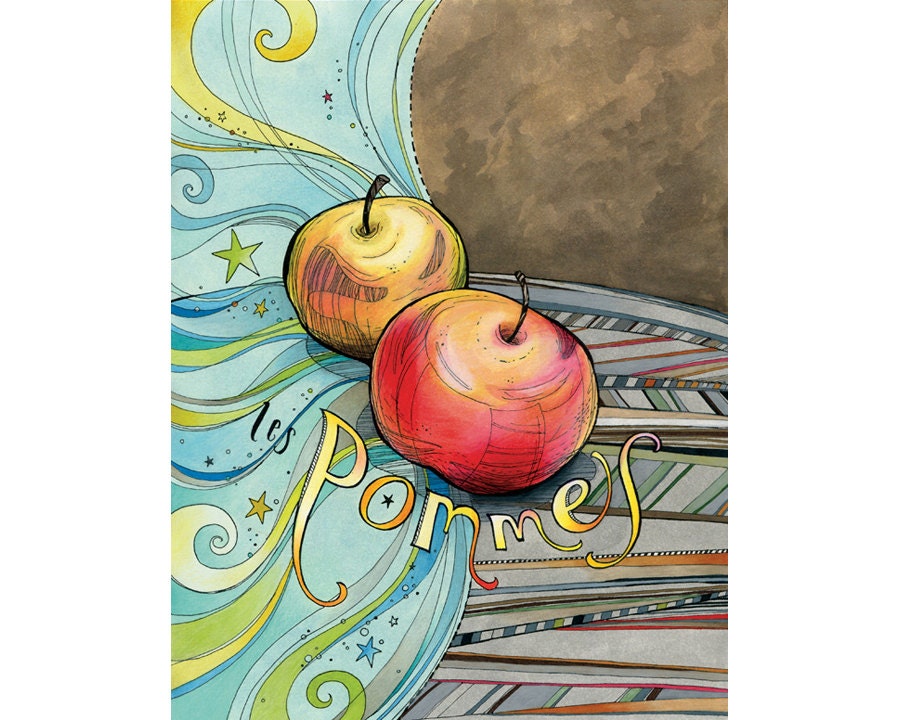 What advice have you got for any budding artists out there that would like to make a living from their art?
My advice is to create what you love creating, not just what you think other people might like. If you figure out what you really love making, you'll not only be happy while you're doing it but you'll be able to create so much more. And I think usually if you love it, other people will respond to it too. And of course, you've got to work hard!
What is your favourite item in your shop?
Lately my favourite, and it seems to be everyone else's based on sales and favourites on Etsy, is my "
You're soFoxy
" fox. He's one that came to me pretty easily, and I love being able to use the word Foxy again. It's so 80s, but such a great way to compliment someone, why did we ever stop using it?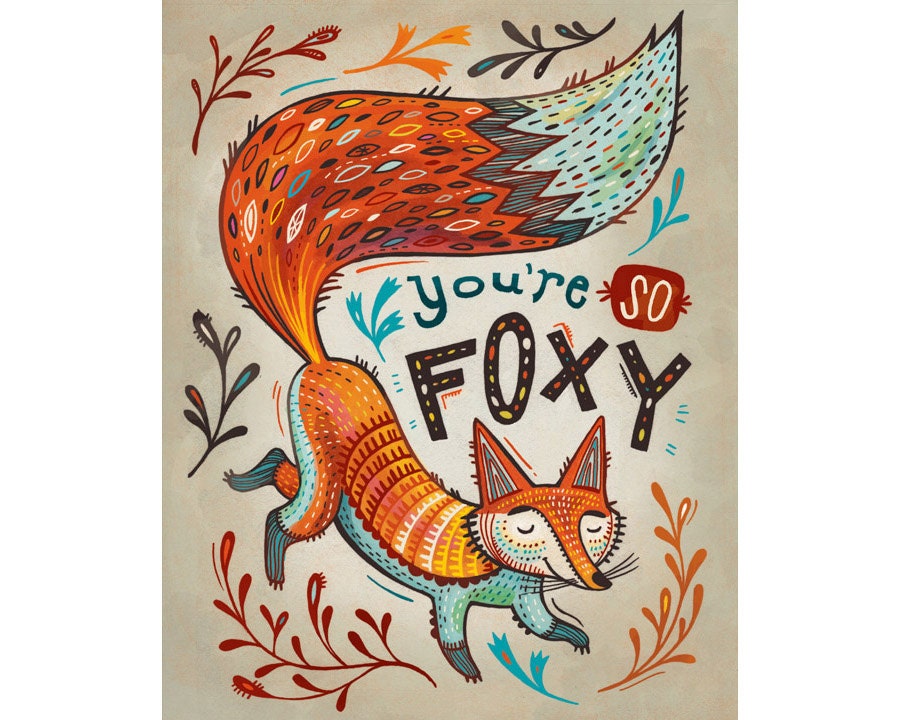 Is there anything you wished you had done differently?
I can definitely say I wish I'd started my
Etsy shop
sooner! I think I was sort of intimidated by the whole thing before, but my husband kept encouraging me to do it, so I finally did. And now I find it's so fun interacting with people that way, and it inspires me to do more new work, I should have done it years ago!
If you could learn something new what would it be and why?
If we're talking new things as related to my drawing, I have lots of ideas for more three-dimensional things I'd like to do with my drawings, so I'd love to find the time to explore those ideas and create new and different things. In the realm of things NOT related to drawing, I'm looking forward to someday learning to ride horses. It would be my 8-year-old self's dream come true!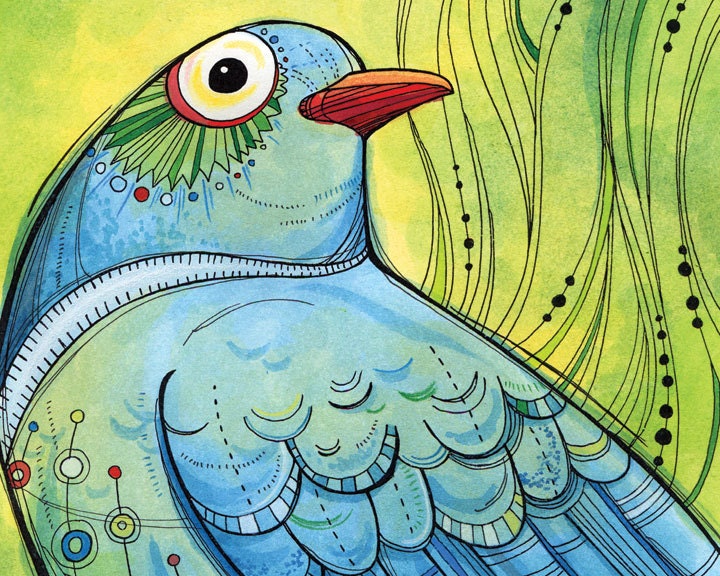 Where is your most favourite place on Earth?
It's hard to pick just one! I love to travel, as I mentioned, and I love so many places for different reasons. My first travel experience was Italy, so I guess you could say that will always be my first travel love. In the US, my favourite place is Yellowstone National Park. And for underrated destinations, I spent four months in Beirut, Lebanon a couple of years ago (my husband's family is from there, and he's an archaeologist and digs there) and it was great — it's fun, beautiful and there is always so much going on.
I'm a massive pizza fan, what would be your dream pizza topping?
A mixture of mushrooms, truffles, and prosciutto, with cheese of course!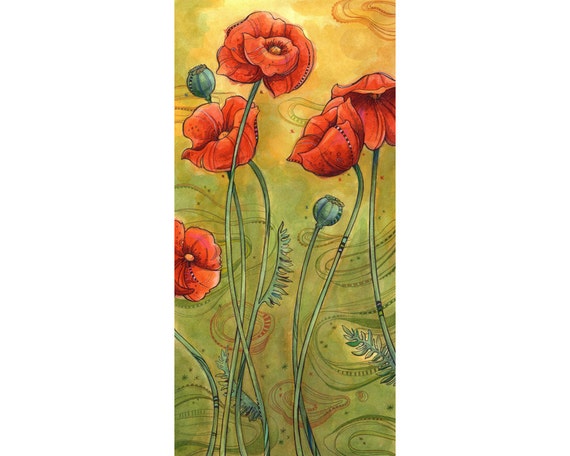 What would your pirate name be?
The Dread Pen O' the High Seas. Arrr.
What question do you wish I had asked and what would your answer be?
I wish you'd asked "Do you have a cute dog?" And I would answer, "The cutest! And his name is Logan."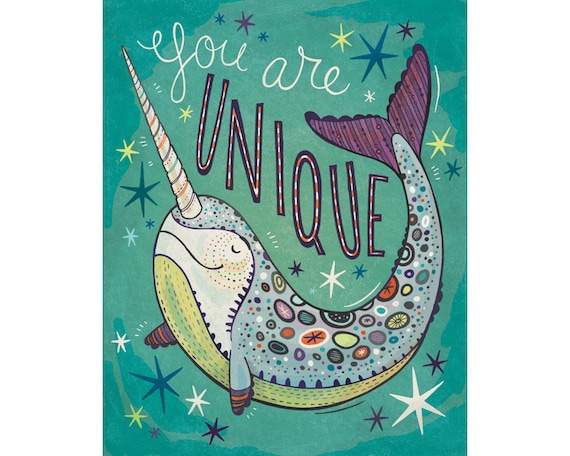 Thanks Anni for a fabulous and very pretty interview. And now people, it's your chance to win a You're so Foxy Print. So get you skates on and start entering!!
<
a Rafflecopter giveaway