I am very pleased to introduce you to Olivia Beaumont from
Beaumont Studio.
Her Etsy
shop
is a distinguished and exciting place to visit. Pop in and check out all her other wonderful paintings and take advantage of her free shipping offer through January.
And if you love this little fella below as much as I do, go over to her
blog
and enter a competition to win him.
He's called Mr Darcy and I think I may be slightly in love.
Tell us a bit about you and your shop
Hi, my name is Olivia Beaumont and I spend my days creating fantastical portraits of the animal kingdom in historical costume and character. I live in the countryside just outside of the charming city of Savannah, Georgia. I paint and operate out of home but I spend some of my time in Savannah meeting people and talking about my work in cooperation with the local art district.
Where do you get your inspiration from?
Oh my! Rembrandt van Rijn is an all time favorite, but I also play on my imaginative encounters with friends and acquaintances, historical figures, myths, legends, and of course, the beautiful and diverse abundance of creatures living alongside us.
How long does it take from thinking of a new picture to it appearing in your shop? Could
you tell us a little bit about the whole process?
A month, at least. Usually longer. Oil paintings are not only a process, they are a scientific process. Mixing pigments and mediums is a bit like cooking up a recipe, and it has to be done in the correct order of layers. Skillfully layered thin glazes, along with patience, will produce an unequalled luminosity and life-like glow.
What advice have you got for any budding artists out there that would like to make a living
from their art?
Do not hesitate to get started with Etsy! The Etsy website is unequivocally the best team to have at one's disposal when starting a small handmade business. Their template for success is time tested and the advice they give is always timely and up-to-date. A new small business owner who believes in their product and is willing to spend the time with research, marketing, and customer relations is on a clear path if they think of Etsy as their team.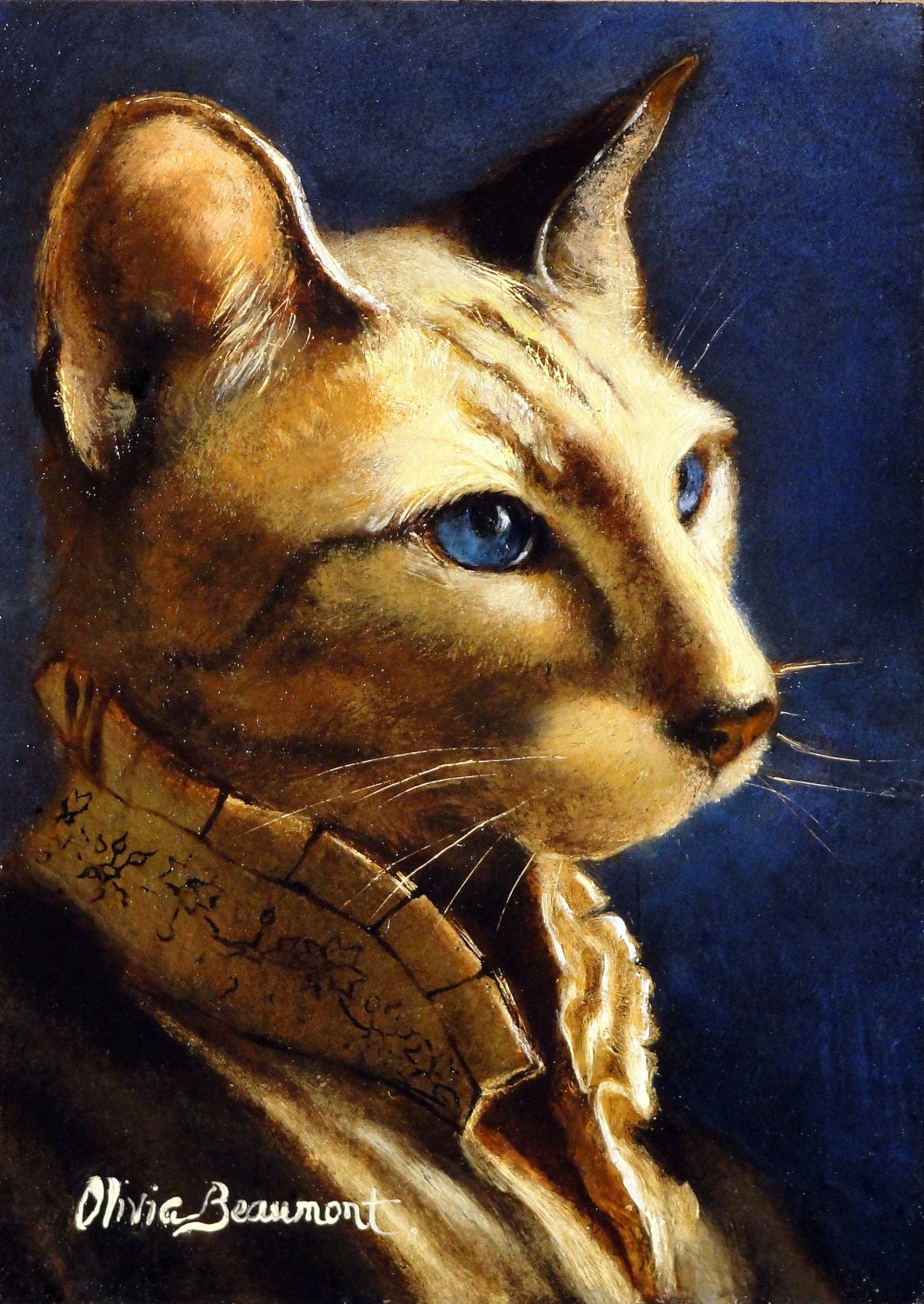 Is there anything you wished you had done differently?
No, I can't say there is. There have been ideas that have flopped, but that's all about learning my clientele. As long as I keep moving forward, those little failures become valuable knowledge.
If you could learn something new what would it be and why?
Surfing. All those years I spent in California and I never learned!
Where is your most favourite place on Earth?
I was born and raised in California so I would have to say Yosemite Valley, followed closely by the National Forest along the Pacific Coast line just south of Carmel.
What's your favourite sandwich filling?
A sandwich filled with tacos! That works right?
What would your pirate name be?
Smilin' Liv Slasher
What question do wish I had asked and what would you answer be?
"What's the best compliment you've ever received?" A friend once told me that my attitude towards life was reminiscent of Chopin's Grande Polonaise Brillante in E-flat major, Op. 22.
Thank you so much for the interview Olivia, it's been wonderful discovering your shop.